Nationwide 4G LTE Coverage
Coast-to-coast wireless coverage is provided on Nationwide Sprint® Network*. Forget about dropped calls, loading issues or slow data speeds.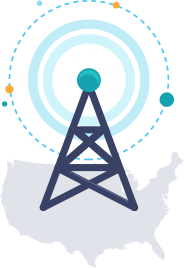 Break free from contracts
You're free to stay as long as you like. Anyways, we'll become old friends, you'll see!

No fees whatsoever
We do prepaid. So, no contract, no activation or early termination fees. What you see is what you get!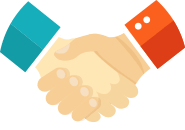 Mix your plan with international calls
Plans & Pay As You Go work well together. Use your plan for US, Canada, Mexico & China calls, add Pay As You Go for international calls and texts to any other country.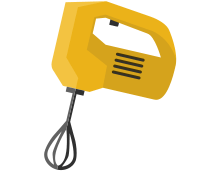 Awesome referral program
Having good friends pays off! Use your unique link to refer a friend and once he places a successful order, you both get $10 Tello Dollars!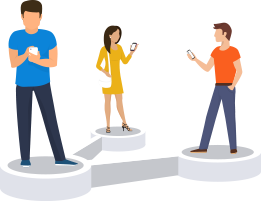 Secure checkout
Your details are safe. Use PayPal, Visa, Amex, Discover or Mastercard, all the major payment methods that keep you risk-free.

What's different at Tello?
It's online, so it's easier
And faster. And always at your fingertips. Forget about waiting in line, time spent in traffic and endless paperwork.
Flexible plans
Adapt your plan to your needs. Build your own custom plan and upgrade or downgrade it anytime, with no fuss.
Transparency
Crystal-clear services, no terms and conditions novels, and a Customer Support team that will answer in less than 5 seconds.
No predefined phone-plan combos
Change your phone as often as you'd like. There's no two-year wait, upgrade fee or costly plans to subscribe to. Plus, we'll ship your new phone for free.
Tether away for free
Sharing is caring, even when talking about data. Use the tethering setting to share data free of charge with your friends or with all your other devices.
No ring time charges
What's the deal with paying while waiting? If your friends are a little busy, you shouldn't pay a thing. The minute counter starts when the conversation starts.
Plans tailored to your lifestyle
Calls, unlimited text and gigs of data in any combination you want. Calls to Canada, Mexico & China are included. Hassle-free monthly renewal, no contract to be tied to, plus upgrade or downgrade anytime you feel like it.
Add Pay As You Go to your plan
Discover our crazy low international rates for calls & texts. Say hello, hola, bonjour or namaste to all your friends abroad. Pay by minute for every call you make.
Phone brands you love
You always want to keep up with the latest technology. Avoid running out of battery in the middle of a call. Get the most megapixels for your selfies and use your phone service to the max.